W
hat can you give a city that has everything? The resort of San Sebastián was born smart: envisioned and planned where sea and land came together in a sheltered bay with an island, surrounded by green hills, three beaches, a river and a sufficiently wide floodplain to build streets, picturesque squares and gardens.  
The Belle Epoque city, known as Donostia in Basque, had chamfered edges to its buildings before pedestrian-friendly architecture gained currency in urban place-making and Basque sculptors like Oteiza and Chillida have bequeathed masterpieces etched into the natural landscape.  
The Old Town evolved out of a fisherman's quarter and is the beating heart of the city, which exudes vitality and with its countless pintxos bars, restaurants and gastronomic societies, entertains a constant flow of pedestrians. But that is
a concern for some residents
of Donostia. And there lies a problem waiting for a smart solution: people counting. Totems on La Concha beach are already doing the job while providing tourist information. The good life also comes at the cost of conspicuous consumption of water and electricity. Euken Sesé, General Manager of
Fomento de San Sebastián
, describes how his city's new ICT initiatives fit into a European framework.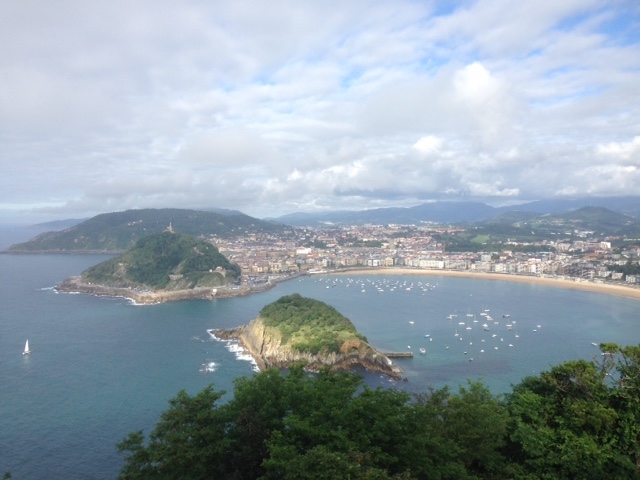 | 14 September 2017 | Euken Sesé Sarasti
Boost for Local Industry
One of the smartest outcomes of the Smart Kalea programme is the boost it has given local employers and technology vendors.
Ikusi Velatia
, located in a science park on a sprawling campus, has been one of the prime movers behind the implementation of Donostia's smart mobility platform.
Ikusi provides an integration platform called Spider, which manages, analyzes and visualises data inputs from various sources and converts them into actionable insights. Based on indicators identified by the city, the open sourced platform generates heat maps of incidences and pain zones on an urban management dashboard.
According to the sensitivity of the data, information is distributed across the municipality and to open data users. Predefined actions may also be triggered based on events. Thermal cameras which work on heat points rather than face recognition, are used in the city to address citizen concerns about privacy. Indeed, a multi-stakeholder council of users are key to smart process design, says Ikusi's smart city product manager, Aitor Rodríguez.
S
an Sebastián has extensive experience in energy, mobility and ICTs, having integrated them in the new smart concept since 2013 and later into the preparation of the Smart City Plan in which the European Union participated and provided funding.  
The SmartKalea project came about in 2014 backed by San Sebastián City Council's development company, Fomento San Sebastián. Traders, hotels and restaurants and residents of a street as well as diverse municipal departments and local businesses became all engaged in the ambitious aim of energy and water savings in shops and homes, as well as savings in public street lighting.  
With the goal of reducing electricity consumption by 16%, monitoring devices were installed in shops to monitor the data and following the analysis of this data, advice can be given and energy saving measures proposed. It also enables shops to have a Positioning and Identification Plan with sustainability and green commerce. At the residential level, monitoring devices were also installed in order to be able to advise each home that so requests it and reduce its consumption. Likewise, in the public sphere, efforts were made to reduce public lighting consumption through the installation of LED technology, self-regulating lighting sensitive to passers-by, counting people and the implementation of smart water meters that enable leaks or supply anomalies to be detected, as well as simplifying readings, etc. In other words, technology is used to reduce consumption and improve the quality of life of citizens.  
On the other hand, diverse proposals have been invited to enable technology centres or companies in the city to test new products in this space. Having initially begun in tourist areas in the Old Town and residences, in 2016, SmartKalea was extended to the working-class neighbourhood of Altza and this year, the middle-class neighbourhood of Amara began incorporating smart instruments in the new designs of local urban culture.  
Among the smart projects that are being implemented in San Sebastián, the coordination with the REPLICATE (Lighthouse) European project is worth highlighting. The city, through Fomento de San Sebastián, is leading this Horizon Plan 2020 project, a European Union research and innovation programme aimed at cities. San Sebastián is playing the role of "lighthouse" city along with Bristol and Florence. The three cities have implemented the development of a smart city model in the fields of energy efficiency, sustainable mobility and ICTs. The model that is being developed and which has been optimised, demonstrated and validated can be replicated in other cities. The Replicate lighthouse project has a budget of €29 million for the 36 participating partners (cities, companies, universities, technological corporations). A further three follower cities are also participating: Essen (Germany), Lausanne (Switzerland) and Nilüfer (Turkey).  
For the city of San Sebastián, the project provides funding of around €11 million, which is an important boost for its implementation in the Urumea Riverside District – Distrito de la Vega del Urumea, which will improve energy and mobility aspects and ICTs/Infrastructures throughout the city. The main objectives of this project are: the development of a sustainable city model, the transition towards a smart city in terms of energy efficiency, sustainable mobility and ICTs, and the deployment of innovative technologies that increase the efficiency of resources and energy, increase the sustainability of urban transport and drastically reduce greenhouse gas emissions in urban areas.  
The area of action is the Txomin residential neighbourhood, the natural park of Ametzagaina, which acts as a carbon pool, and an industrial estate with over 350 companies and 4,500 employees. To date, a detailed definition of the rehabilitation of the façades, windows and roofs of 156 homes and 36 establishments in the Txomin neighbourhood (Urumea Riverside) has been developed and the District Heating operating model has been finalised as is an urban heating and hot water system that will provide service to over 1,500 new homes and will be equipped with a system that will monitor the consumption of residents.  
After the summer, construction works will begin on the District Heating power station which will provide a 35% reduction in the consumption of primary energy, 90% of which will be from renewable sources, and a reduction in CO2 emissions of 85%. The deployment of smart public lighting on Estate 27 and the high speed wireless network will be completed, as well as the development of the Smart City Platform, which is already receiving data on the city. Furthermore, two electric buses have already been purchased, which, along with another two hybrid buses, cover the service of the route that links the district to the city centre, a further four electric vehicles and two electric scooters for the municipal fleet. The deployment of rapid electric chargers at petrol stations and car parks throughout the district is also planned.  
The three leading cities, San Sebastián, Florence and Bristol, are medium-sized cities with strong public-private partnerships and the necessary experience to deploy the Smart City plans. Their economic structures are different but they are all strong in the knowledge-based economy, including ICTs and digital industries. The three cities face an urban modernization challenge with ambitious energy aspirations. A development model must be achieved whose solutions can be replicated in the rest of the city and in the follower cities.