23 October 2015 | by Vineeta Shetty
Groningers develop their cycling limbs early in life, balancing on the baby carriages of their father's bicycle as early as four on the way to school. Like their counterparts in Amsterdam and other Dutch cities, multi-dextrous Dutch can be spotted gracefully carrying large sacks, photographing, linking hands and sexting without wobbling on their two-wheelers.
Behaviour and lifestyle intervention is the cornerstone of Groningen's strategy to curb energy usage and create a liveable atmosphere for its citizens. To displace automobiles, a regional network of tramlines and buses with quieter and cleaner engines have been put in place in the inner city.
Among the goals of the city is to have 70% of the vehicles running on electricity by 2025. In a bid to encourage use of e-vehicles, the municipality has subsidized the initial installation of over 180 e-charging poles over the city. Employers avail of this subsidy of 1000 euros per pole to provide free charging to their visitors and staff, the Convention Centre provides it as a service to visitors attending their shows and some institutions, such as the hospital, end up making a profit.
The elevation of the bicycle (see sidebar) to primary mode of transportation within the city is joined up with strategies to prevent the exodus of people-intensive functions out of the city, explains Gerard Tolner, officer for urban planning and economics in the municipality's Policy Development Unit. For example, there have been several moves over the years to banish university libraries, cinemas, courts and hospitals outside the centre in favour of high-priced office, retail and residences—a phenomenon that is embraced as inevitable in cities elsewhere. City officials, however, fought to keep these facilities within walking or cycling distance.
The University Medical Center Groningen (UMCG) which receives three to four thousand patients a day is an illustrative example. It is housed in a medley of buildings in different architectural styles that runs to the east of the Grote Markt. By housing the hospital here, city subsidies succeeded in saving the facilities from dereliction or commercial development. This policy also prevents the exclusion of the poor who cannot afford private cars or the aged and disabled who have limited mobility.
In its drive for energy-efficiency, the city closely regulates the construction industry, which is required to build energy-neutral homes from 2017 onwards. The municipality itself has realized upto 900,000 Euros in savings on its own properties through passive house standards, which it reinvests in other buildings. The city also promotes infrared heat mapping for each home, to identify the opportunities for double-glazing and insulation.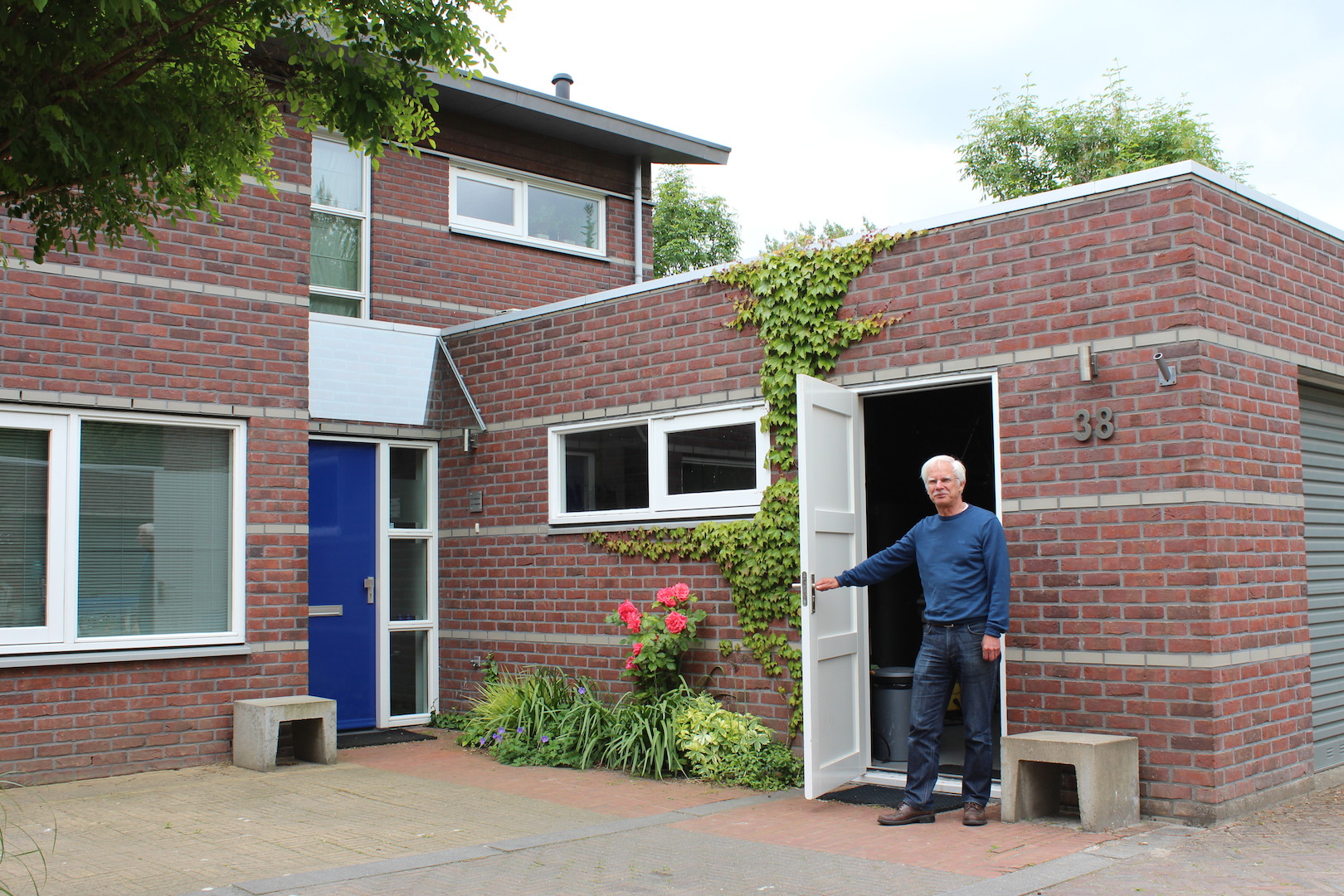 Groningen has set itself higher targets than the rest of the Netherlands for energy neutrality, vowing to produce within the city as much energy as is used by the year 2035. This surpasses goalposts of 2045 by Eindhoven and 2050 by Leiden and the overall EU target of 2100.

The Energy Transition Model (ETM), developed by Quintel, is an open source document that builds on the experience of municipalities, energy businesses, commercial parties and academic centres. This tool is used to progress towards long-term goals, such as reducing CO2 levels to acceptable levels.

At the heart of the smart transition of Groningen and its province is gas. Depending on whom you speak to, gas has been a boon and a bane. Its discovery near Slochteren in 1959 made it amongst the ten largest gas fields in the world, and ushered in prosperity for the Netherlands as the largest producer in the EU. Gas was the incentive that put the fire under Groningen as the international centre of energy knowledge, energy sciences, energy distribution and energy-related industries over the last 50 years.

But provincial authorities point out that the natural resource really benefits the national government. More fundamentally, intensive onshore exploration has triggered seismic activity in the region. Protests from local communities have led to a suspension of deep underground rock extraction in the province and heavy fines for the mining company.

The complex relationship with gas leaves it in a limbo between conventional fossil fuels and renewables, which in practical terms, are not 100% available yet, though the official target is to move from the current 4% to 14% by 2020 and over 16% by 2023.
THE AFFINITY FOR RENEWABLES
The province of Groningen boasts 900 miles of dedicated cycle tracks. Around the centre of the City of Groningen, no less than 60% of all circulation in the city is by bicycle, which rules in a radius of 7 kms.
Creating dedicated bicycle lanes was only the start of the city's momentous choice to prioritise bicycles in the 1970s, when several lanes of tarmac were broken up around Town Hall and cars forced outside the canal ring.
Floor de Jong, strategic advisor to the Municipality of Groningen, jokes that there are 1.5 bicycles per person in her city.
Fostering Groningen's bicycle-friendly ethos
was made easier by the fact that is has evolved into the youngest city population in the Netherlands: 50% of its 200,000 inhabitants being younger than 32 years, and half its workforce having a university degree.
Some of the focused strategies she identifies to ensure that the sleek and silent bicycle remains predominant in the mobility chain year-round include:
• Dedicated all-direction traffic signals for bicyclists,
• Park and bike at rail locations and even bus stops,
• Priority snow clearance for bicycle lanes and
• MeldStad app for citizen's complaints about management of bicycle routes and facilities.
The year 2016 has been declared Year of the Bicycle and the city hopes to assert its predominance as the World's Bicycle City by sharing expertise at the global level through conferences and workshops.
In the future, city strategists foresee bicycle paths being heated by geothermal energy or wastewater heat. Other technology interventions involve smart streetlights: sensors in lamp posts that help speed up green signals for bicycle traffic during wet conditions and dim bulbs when there is no traffic.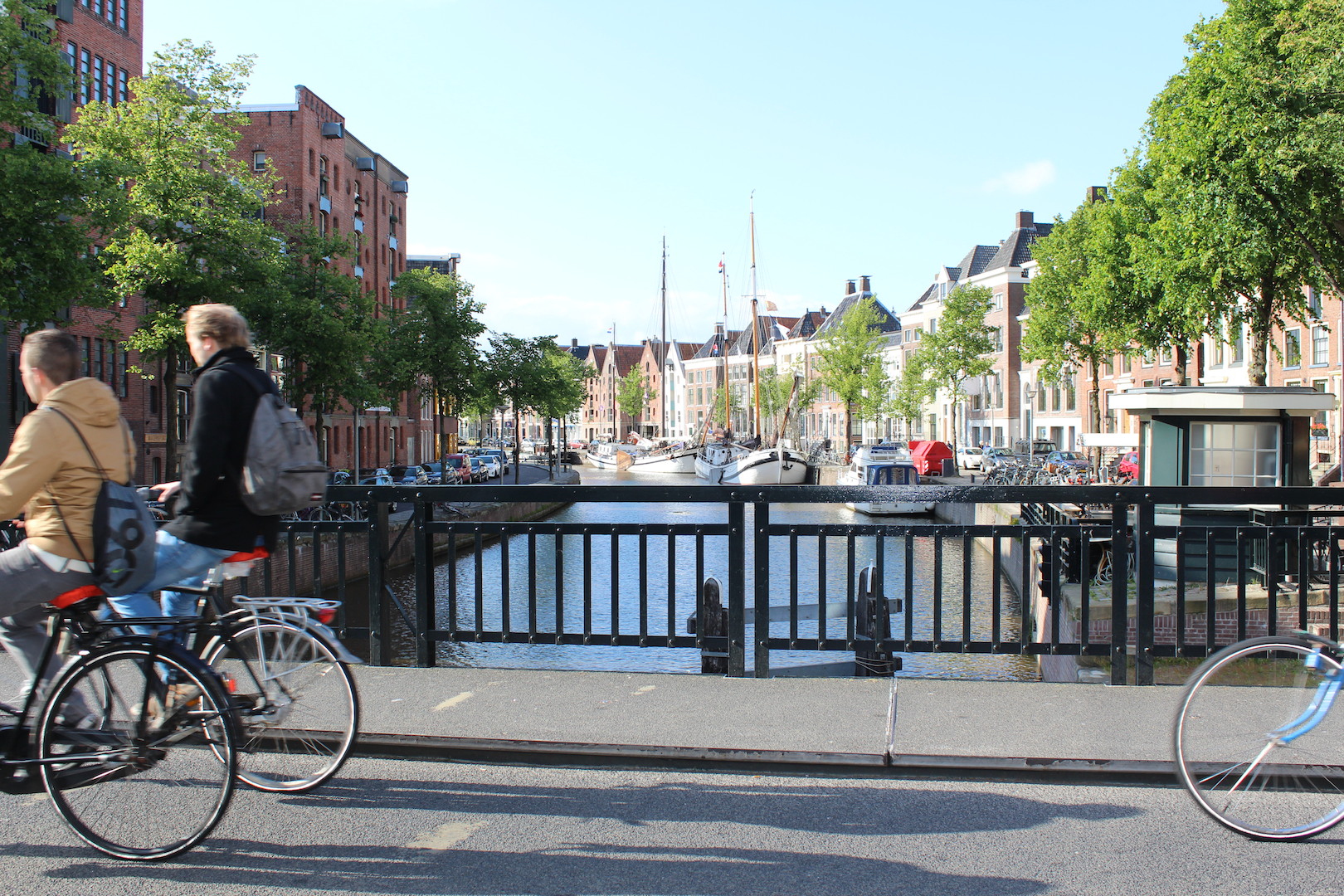 Heat City
Reducing reliance on gas is a sentiment that dates back to the 60s in the Warmte Stad or Heat City, where heat from swimming pools was shared between homes. Though this has been discontinued, the city continues to grow an alternative geothermal network. Drilling is to start next year in the northwest of the city to tap naturally-warmed water in the deep-earth heat of 120 degrees C, extracted by flushing down cold water. Some 3,500 houses are expected to be connected up to heat generated in this manner in early phases and the intention is to eventually connect 15,000 homes with the network. The city provides a subsidy of 33 million over 15 years for this project, dubbed Zernike, to become feasible.

There are also continued efforts to use large sources of surplus industrial heat, such as from the sugar factory and the UMCG and to extract heat from sewage. Experiments are also ongoing for the storage of geothermal energy for two to four days. Over the long-term, there are plans to integrate the various sources of heat.
Wind dies down
Wind energy may sound like a perfect fit to the blustery northern Netherlands. While offshore wind farms continue to proliferate in the high winds of the northern coast, onshore schemes have proved problematic and unpopular, especially when the national government settled on an empty region in the province to base large onshore wind farms generating a cumulative 6000 Megawatts.

In a climbdown, the province is now expected to provide space for 850 MW, while the City of Groningen has offered space for 70 MW within the municipal boundaries.

Experts believe that to counter protests about noise and shadows from modern wind turbines from local citizens, they could be sold on the benefits: reduced energy bills and co-ownership in the turbine. Inviting innovators to facilitate small-scale wind energy producers to supplement the grid is also on the cards, in a drive towards having 11% of energy produced by wind.
Solar Parks
In a bid to bring solar up to 11% of energy neutrality, an all-out effort is being made to park solar panels on all conceivable grounds and roofs, in cooperation with local sustainable cooperative energy companies and foundations. At the end of last year, some 22,800 panels were installed over the city.

There is also talk of those without solar panels on their own roofs or gardens to collectively invest in municipal solar fields, sharing the energy and potential profits accordingly.
Biomass-Ready
Biomass is a ready recourse for renewables given a strong agro-food sector in the northern provinces of Groningen and Frieseland. In fact, Groningen emerges as a frontrunner in producing green gas, having generated 15 million cubic metres in 2014. As a proportion of energy neutrality, 20% is targeted to come from biomass. Within the city, energy production from municipal wood chips has been warming a sports centre and the city is now investigating use of other biomass waste streams. While gas from manure is being explored at the village level, there is an ongoing question of whether a biogas network will be able to hold and make the grade.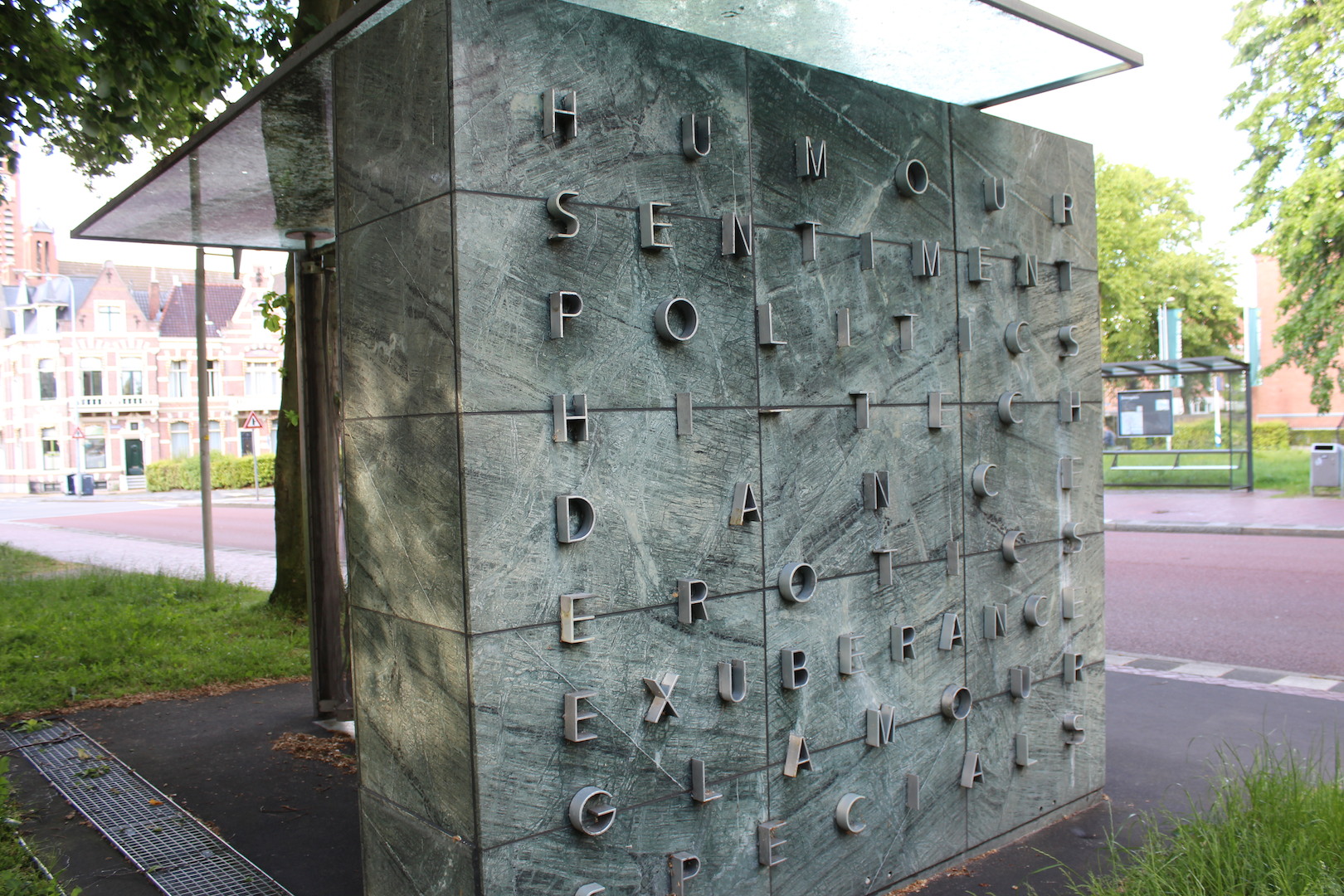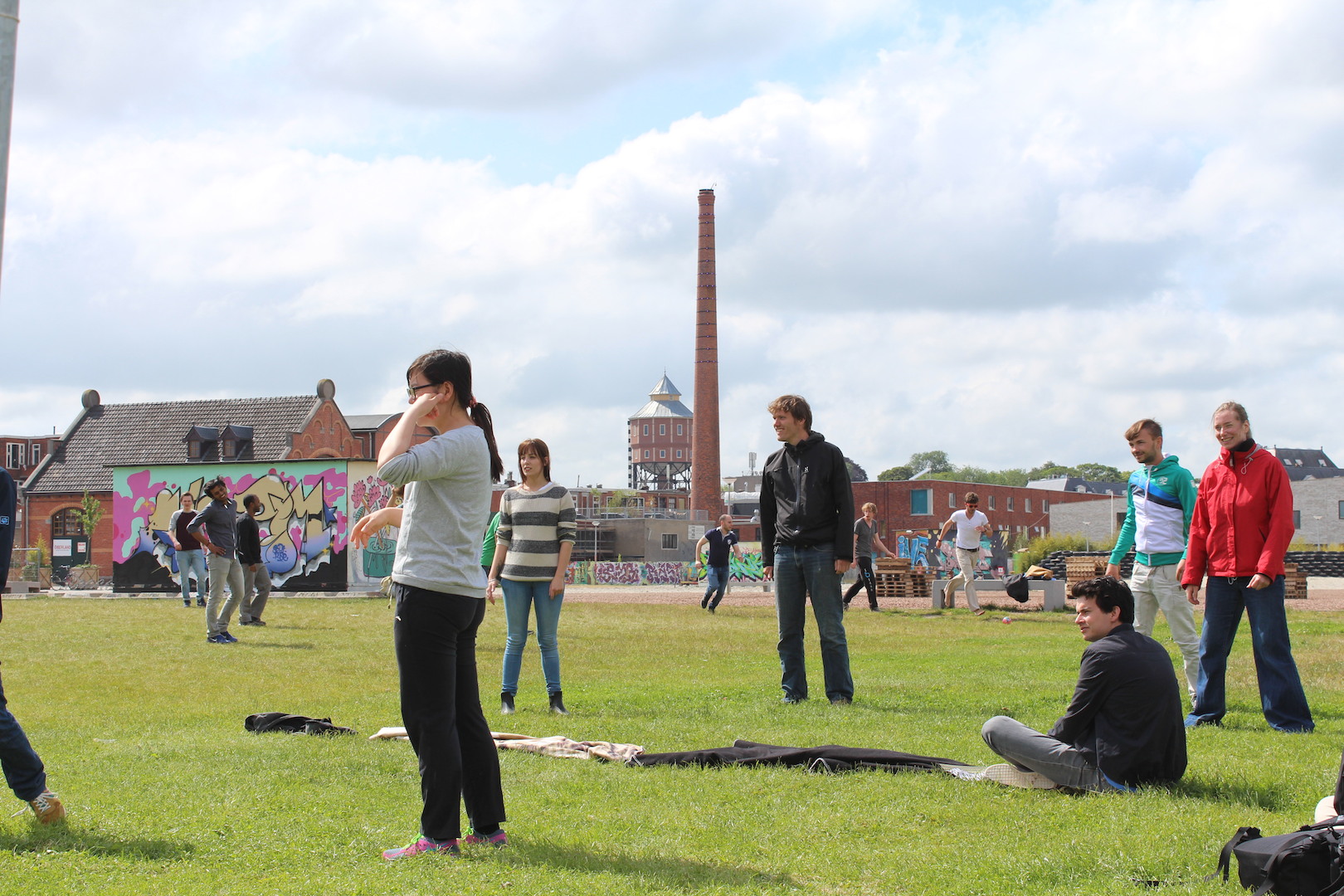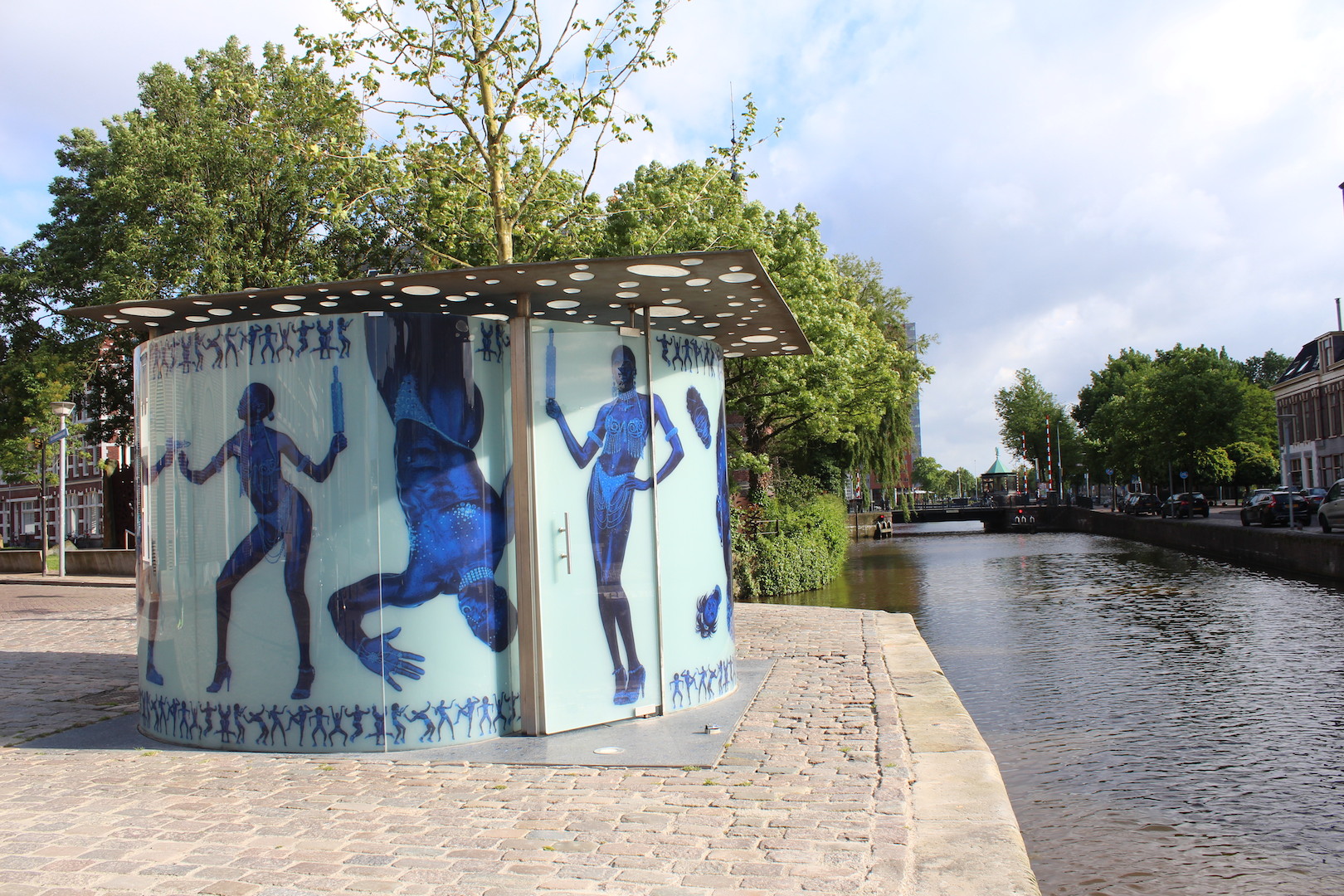 Groningen Seaport
The city enjoys a symbiotic relationship with the provincial government of Groningen, says strategic advisor Eelko Steenhuis in the City of Groningen's Economic Affairs unit. Further afield, the Groningen seaport has become a magnet for oil exploration and in its wake, offshore wind, submarine landing stations, auxiliary industries for wind energy and power plants. Not surprisingly, Google chose to locate its data centre here and the provincial government seized the opportunity to locate glasshouses next to the facility to capture the extraordinary heat produced by the servers.
Eemshaven on the seaport is the landing point for the
NorNed
, a 580 km submarine cable connected to Feda on the Norwegian coast.
The Netherlands imports "green" hydropower during the day when demand is high and exports excess capacity from its thermal power stations during the night when demand is low. The Dutch national grid can use Norwegian hydropower to manage peak power loads during the day and by offering an alternative to fossil fuel-based generation, grid operators expect to reduce CO2 emissions by about 1.7 million tonnes per year.
Cross-Fertilisation a Strength
Indeed, balance, sharing and transition are dominant themes in the unique cross-fertilisation of academia, private sector and government in the energy sector that exists in the Groningen region.
The city is positioning itself as one of Europe's prime locations for smart sustainable energy and innovation. Prominent among the institutions that make up the 'Energy Valley' is the
Hanze Univerity of Applied Sciences
, that is spawning a new generation of renewable energy specialists. Students from multiple disciplines can specialize in applied research in the field of new energy. Hanze has teamed up with the University of Groningen and a variety of companies, authorities and knowledge institutions to combine existing and new education in the field of new energy and energy transition in
Energy Academy Europe
.
Students, researchers and companies work together on energy innovations at its
Energy Transition Centre
(EnTranCe), a demonstrator focusing on decentralized energy-balancing, bioenergy and sustainable traffic systems. In partnership with GDF Suez, the Academy has also launched a Startup Fast Track for energy entrepreneurs, providing a tailor-made business acceleration programme with funding, coaching and expertise.
iBalance, a smart grid project incubated at Hanze University with the support of telecommunications operator KPN has recently concluded an exploration on different levels of balancing in the energy ecology: between power production and consumption; between renewable and non-renewables; between renewables and controllable and on deriving electricity from heat sources. "It is expensive to design and build alternative energy systems so iBalance seeks to understand the tradeoffs of costs and benefits of the various options," says senior scientist Rolf Velthuijs.
The experiment, conducted across 60 homes in a small village south of Groningen, involved 40 solar panels, wind turbines and 9 fuel cells and observed energy behavior of residents. "Will it be a nice place to live in 50 years from now if power is produced and shared within the local community and what will be the economic benefits to the area?" These are questions that the demonstrator sought to answer.
The Groningen municipality positions itself as a mentor to academia, business and citizens, encouraging the stakeholders to take the lead in energy saving, renewables and mobility, while driving knowledge and innovation and self-organization.
Floor de Jong sums up the city's three main areas of investigation and investment as follows:
Scaling sustainable thinking across legislation, industry and commerce and at all levels
Providing local technology and innovation centers the means to investigate how best to perform within the new Energy City
Visualising the route towards energy neutrality in 2035, keeping track of progress and communicating this to all parts of society.