18 December 2014 | by Vineeta Shetty
In the second half of a 2-part article on vertical farming in the 2 city states, The Smart Citizen highlights the ecological vision for the Semi-Autonomous Region of Hong Kong.
Before urban expansion ignited, Hong Kong generated over two-thirds of its own produce from local farms. In the 19th century, rice paddies lined the hillsides of the now modern metropolis. Following World War II, the influx of people from Southern China brought a wider array of crops and agriculture intensified; there was a large scale conversion of rice fields to vegetables gardens. However, from the 1960s to today, the impact of urbanization and industrialization resulted in substantial loss of farmland, especially close to city centers. Today, farming in Hong Kong has dwindled to merely 1.7%.
As Hong Kong's expands in population, there is growing concern for the remaining agricultural land in the New Territories. There are 732 hectares of farmland remaining in Hong Kong, with approximately 4500 farmers in practice (0.3% of the labor force). Meanwhile, NGOs, community and personal projects have sparked a flurry of rooftop farming throughout the city.
The Bank of America Tower in Admiralty and Hysan Place in Causeway Bay have given their towering rooftops up, as have a growing number of universities and schools to the opportunity of farming in the city. There are an estimated 300 urban farming projects that now populate the city. The motive is not so much sales and profits, but a grassroots social movement that encourages community development, increased knowledge and confidence in local produce, and healthier lifestyles.
An innovative company that has grown its idea to industrial proportions over the last 20 years is
OceanEthix International Holdings Ltd.
At the core of the business is a green and innovative 100% waste water recycling and eco-friendly aquaculture and live seafood storage system, with the ability to hold high-density volumes in very limited space.
Starting in 2005, the
Shenzhen and Hong Kong bi-City Biennale of Urbanism and Architecture
became the stimulus for the launch of high-performance buildings with vertical farming systems. The contours of Hong Kong's rice paddies have become the inspiration for flamboyant plans submitted to urban planners lately.
The Hong Kong Planning Department is considering, for example, a proposal from
Javier Ponce of JAPA Architects
in Barcelona for a building in the Tai Po District in the New Territories. This 187.5 metre tower made of recyclable materials will grow food on rotating floor-plates to give maximum exposure to sunlight. Ponce believes Dynamic Vertical Networks (Dyv-nets) hold promise for Singapore and China. Mexican architecture firm,
Studio Cachoua Torres Camilletti
has gone one step further and visualized the rice steppes on the roof of its surreal building, which also incorporates fish nurseries and wind turbines, all run on a nuclear plant in the underground garage.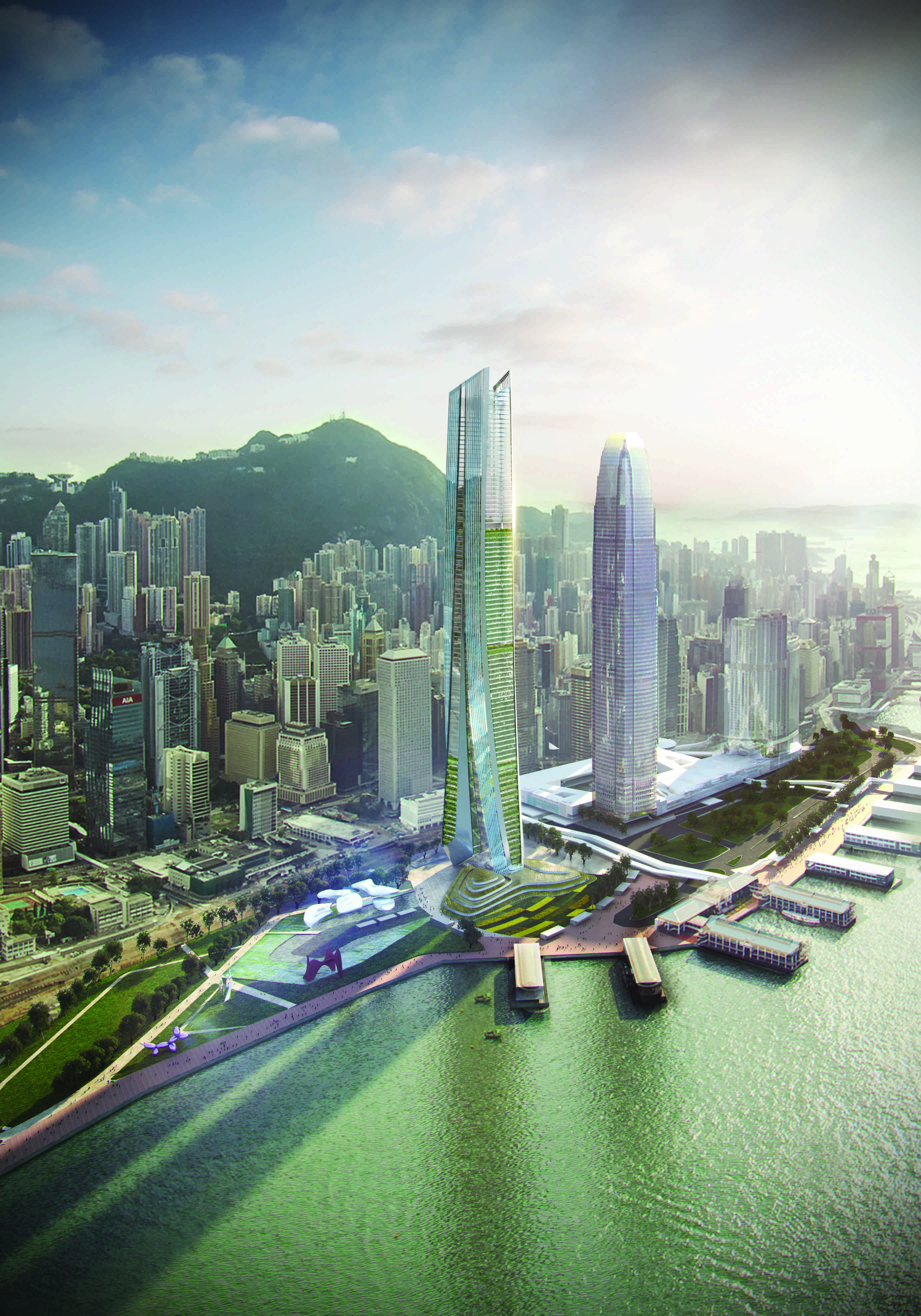 Reflecting on these trends, one of the most admirable ecological visions for the Victoria Harbourfront has come from
10 Design
, an international partnership of architectural, urban, landscape and interior designers and animators. Victoria Harbourfront strives to be an icon for environmentalism to its visitors, Hong Kong's residents, and the world on how to establish a more ecological way of living.
The Vertical Farm Centre (VFC) centres around a 420m vertical farm that provides agricultural services, commercial office space and a luxury hotel. The building is grounded by an intense agricultural and exhibition centre, living classrooms to educate the public on agriculture in Hong Kong, while growing produce for the local market. Restaurants occupying the refuge floors are able to provide "Farm to Table" service from the building itself. The two mid-sections of the building feature 110,000 sq. metres of prime office space wrapped by aero & hydroponic systems growing in a double skin enclosure. "Such space provides a dynamic work environment, intimate connection with nature, and enhanced air quality for the occupants and visitors," says 10Design's head of sustainable design, Sean Quinn. The tower is topped by a 33-storey luxury hotel and observatory. A central atrium starts on the refuge lounge of the 73rd floor and forms a double helix that wraps through an internal garden. The helix reaches its pinnacle at 420m providing 360 degree views of Hong Kong.
In a city that imports 98% of its food, VFC introduces a descending production system capable of growing more than 60 different crops commonly found in the region. The aero & hydroponic systems yield 5 to 10 crop cycles per year, are lightweight, space efficient, and can be stacked vertically. The total growing area is equivalent to 172 hectares of farmland, could process 1000 tons of CO2 through photosynthesis, and generate more than HKD 500 million annually.
Water is vital to the processes of VFC. The building roof, facade and site draw from humidity and rain outside the building, about 2.5 meters of rainfall every year. Storm water is purified as it descends through the agricultural system. That water is recycled to serve the building's non-potable water needs, to irrigate the external farm, or stored for the dry season of the year. The building would purify 8.7 million gallons of water per year, equal to 3500 Olympic swimming pools.
Beyond the building, the site master plan proposes a new Central Harbourfront inviting residents and tourists alike with a variety of destinations, pathways and opportunities to relax, play, work, shop, learn, and grow. Commuters are greeted by an expanded Central Farmer's Market as they access the ferry piers. A large-scale organic community farm allows residents to grow their own local produce, while tourists can learn about local agriculture and the ecosystem of VFC and the park.
Crops, water, and waste are processed in a central site surrounded by wetland, generating food for sale, clean water for fisheries, fertilizer for the farm, and energy for VFC. Strolling along the Harbourfront provides views across Victoria Harbour through a rolling green park and a seasonal flower garden. The sports field provides open space for athletics, informal games and organized matches and events.
The Vertical Farm Centre and park follow an ecosystem cycle, in which all waste is repurposed. The surrounding wetland park naturally processes 40 million gallons of rain water which could be reintroduced to the neighbouring buildings through a centralized grey water system. Unsold food from harvest, preparation, and sale at the market can be composted and the resulting methane release allows some of this waste to be converted into biomass energy to fuel the building. The ash (carbon) generated from this process can be used as fertilizer refuelling VFC's agricultural systems.
While VFC is a bold vision for 2030, the incremental steps to maintain existing farmland and establish farming and fishing in the built areas of the city are practical ones that can be accomplished incrementally. The existing rooftops and blank façades of Hong Kong provide a nearly infinite canvas for vertical greenery at all scales of implementation. New developments can take advantage of podium roofs to deliver produce from farms to internal markets and restaurants. Future developments can look at how to organically integrate the flowing hills of farmland through the city, inviting farmers to roofs and residents to farms.
"Both a social and a technical approach is needed for long term success in urban agriculture. The increased need for food independence will be enabled through the technical breakthroughs and smart monitoring accomplished by Sky Greens in Singapore, while community engagement will gain long term trust in produce and generate the awareness and desire for interaction and activity in Hong Kong's agrarian roots," says Quinn.