29 June 2014 | by Vineeta Shetty
Last week, India's putative
Smart City mission
threw more figures on the mountain of numbers being crunched by journalists, analysts and numerologists.
Prime Minister Narendra Modi's announcements, while signifiying a political declaration of will to a massive audience of stakeholders, left questions unanswered. Many operational details of investment are yet to ironed out and are likely to take months to emerge. At the other end of the spectrum of stakeholders, environmentalists questioned the unambitious goalposts set for cities on sustainability, which has become synonymous with "smart" in the civilized world.
Till then, the country has been carved out into nine distinct regions with a varying number of candidate cities planned in each of the 36 states and territories. Twelve consultants -- funded by a World Bank programme and empanelled by the centre -- will be foisted on the states to assist aspiring municipalities and territories to participate in a smart cities challenge for funds.
Applications for consultants were received a month ago and each of them must be associated with a minimum of Euros 1.4 million average annual turnover in the consulting business, signaling that this is a game for the big boys. In a nod to inclusiveness, however, the government has endorsed citizen consultation meetings, including active participation of Residents Welfare Associations, Taxpayers Associations, Senior Citizens, Chambers of Commerce and Industries, Slum Dwellers Associations and other groups in the development of proposals. "During consultations in addition to identification of issues, needs and priorities of citizens and groups of people, citizen-driven solutions will also be generated," a government document says.
Cities in the fast-forward state of Andhra Pradesh propose to hire their own resources to move speedily on their development plans.
Of the four categories of smart cities, a minimum of 500 acres have been designated for retrofitting areas of cities, 50 acres for redevelopment of already built-up areas, 250 acres for creation of brand-new cities. A fourth category is pan-city infrastructure, which will be necessary even in new fairytale cities such as Gurgaon, just outside the national capital. Home to many multinationals, Gurgaon is the bête-noire of urban planners as it notoriously showcases shiny buildings with no underlying traffic management, sanitation, water supply and electricity grids.
The total budget of Euros 6.7 billion promised over 5 years distributed over 100 cities will not be enough for any meaningful scale of smart infrastructure, most stakeholders agree. The states are expected to match the centre's funds with matching contributions. In addition, the urban local bodies themselves are expected to come up with innovative schemes such as tax-incremental financing, municipal bonds and to leverage funds from regional banks like ADB and the World Bank.
Private funds and bilateral aid and know-how from advanced countries have also been included in the mix. However, investors such as players in new townships have sought more clarity on how the special purpose vehicles, as the private-public partnerships are called, will work. Will the investment be recovered for example by charging a premium on citizens, such as house tax or corporation tax? How will the recovery work in the case of pan-city infrastructure. Will tax collected in these new cities go to the PPP?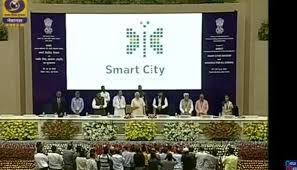 The government promises a forthcoming financing plan for the complete life cycle of its proposals. The plan will identify internal (taxes, rents, licenses and user charges) and external (grants, assigned revenues, loans and borrowings) as sources of mobilizing funds for capital investments and operation and maintenance (O&M) over the life cycle of project. The financial plan will provide for sources for repayment of project cost over a period of 8-10 years, O&M cost and also include a 'resource improvement action plan' for financial sustainability of the urban local bodies.

Associated programmes seek to bridge the housing shortage of 20,000,000 units countrywide by the 75th anniversary of Indian independence by 2022. Too often, the claim on smart cities by property developers has gravitated towards gated communities destined for the upper and middle classes. Addressing the important issue of shelter, the government has decreed that 35% of the homes in greenfield areas would be reserved for the economically weak, as India's officialdom refers to the impoverished. How India's greedy builders manage to weasel out of this requirement deserves waiting and watching.

To qualify for funds in two rounds, the bar has been set high for the cities on a variety of indicators. Cities are being challenged to qualify on the basis of transparent budget expenditures, rationalization of property taxes, payment of staff salaries, cost recovery of water charges and a fully-functioning online grievance redressal system. All that and their enthusiasm in implementing the Prime Minister's pet agendas: sanitation and Make in India.

This makes eminent sense from the point of view of business and investment. But disappointingly there is very little pressure being put on cities to reduce their carbon footprint and reduce vehicular congestion. In a parody of the lip service to climate change, only 10% of the energy in smart cities is required to be renewable with no goalposts for progressive offsetting of conventional energy.

Avikal Somvanshi, Senior Research Associate for Sustainable Buildings and Habitat at New Delhi-based Centre for Science and Environment, says a 10% renewable mandate is abysmally low.

"Cities are major energy guzzlers and meeting all the energy demands with renewable might be a far fetched idea for existing cities at their current level of technology but building a new city throws up opportunities and advantage to build in super-efficiency both in energy and resources," he said. "We already have the know-how and technical expertise to design extremely prudent and efficient systems."

Says Somvanshi, "If I was setting a target for smart cities, I would have challenged the technical and professional world to deliver a city so prudent and efficient that 100% of its energy demand could be met with its roof top itself. In other words, smart would have been to design a city that is able to sustain itself on its on-site (renewable) power generation capacity instead of designing a energy generation capacity to meet city demands."